The Pulmonary Medicine Department at Sir H. N. Reliance Foundation Hospital and Research Centre provides comprehensive and individualised service for the diagnosis and management of all aspects of pulmonary and sleep-related disorders.
The department sets the bar high when it comes to delivering world-class services to all inpatients and outpatients, for lung disorders ranging from asthma and COPD to lung cancer and tuberculosis, with the help of cutting-edge invasive and non-invasive modalities.
Backed by the experience and expertise of a dynamic group of professionals including clinicians, nursing staff, pulmonary and bronchoscopy technicians as well as physiotherapists, the department provides patients with the best of medical services in a holistic manner.
By providing evidence based treatment and innovative solutions to advance clinical practice the department is set to become a leading centre, at a global level, for the treatment of lung disease and sleep disorders. The department wishes to encourage and educate future clinicians so as to enhance the levels of care available in the speciality.
Technology & Infrastructure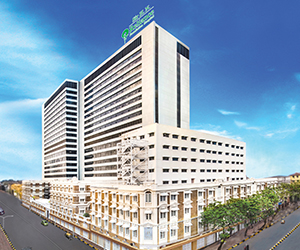 Armed with a state-of-the-art Pulmonary Function Laboratory, a high-tech Sleep Laboratory and a Bronchoscopy suite, the Pulmonary Medicine Department at Sir H. N. Reliance Foundation Hospital and Research Centre offers quality diagnostic and therapeutic services surpassing some of the best in the industry.
Spacious well-equipped inpatient wards and outpatient department ensure the utmost comfort as we deliver comprehensive care to all age-groups of patients for a wide spectrum of respiratory ailments.
Medical Equipment and Technology at the department:
Flexible Video Bronchoscopy
Endobronchial Ultrasound-guided Bronchoscopy
Medical Thoracoscopy
Jaeger MasterScreen Pulmonary Function Laboratory
Latest Philips Respironics Alice 6 Sleep Laboratory
OmniLab Advanced + for CPAP Titration.
Services
Pulmonary Services
Specialist Outpatient Clinics to provide community access to pulmonary and thoracic services for all lung disorders
A Domiciliary Oxygen Clinic to provide and manage supplemental oxygen requirements in the home setting
Specialist Non-Invasive Ventilation Clinic to assess patient suitability and monitor domiciliary home ventilator support
Assessment of pulmonary functions, including lung volumes, flow rates, airway resistance, bronchoprovocation testing, bronchodilator therapy and diffusing capacity. Additional tests available include the six-minute walk test, exercise oximetry, cardiopulmonary exercise testing and inspiratory and expiratory pressures (for patients with neuromuscular disorders)
A structured Pulmonary Rehabilitation Program in association with Physiotherapy Department
Bronchoscopy Service to perform endoscopic investigations for a range of pulmonary diseases, including lung cancer, as well as Endobronchial Ultrasound-guided Bronchoscopy to help in diagnosis of mediastinal lymph node disease and staging of lung cancer
Medical Thoracoscopy service to enable diagnosis of pleural diseases like tuberculosis, lung and pleural cancers.
Sleep Services
Sleep Clinic for patients with sleep disorders and to provide long-term support for patients using CPAP
Diagnostic services for a variety of sleep related disorders including sleep apnoea, insomnia, parasomnias and many more
State-of-the-art titration system which enables efficient performance of titration studies.
Partners in care
Dr. Rajesh R. Sharma
Mentor

Department
Pulmonary Medicine
Qualification
MBBS, MD (Chest and Tuberculosis), D.N.B (Respiratory Medicine)

Dr. Susheel Bindroo
Director

Department
Pulmonary Medicine
Qualification
M.D, ID.C.C.M., F.N.B.(CCM), European Diploma in Intensive Care (EDIC), European Diploma in Adult Respiratory Medicine (EDARM), F.C.C.P. (USA),  
Interventional Pulmonology (Penn Medical Centre, Philadelphia)

Dr. Nimish M. Shah
Consultant

Department
Pulmonary Medicine
Qualification
MBBS, MRCP (UK), MRCP (Respiratory) CCT (LONDON), PG Cert in Clinical Education (Kings College, London)

Dr. Pratibha Singhal
Consultant

Department
Pulmonary Medicine
Qualification
MBBS, MD (Tuberculosis and Chest Disease), DNB (Respiratory Diseases), DETRD (Diploma in Environmental, Tuberculosis and Respiratory Diseases)

Dr. Richa Mittal
Consultant

Department
Pulmonary Medicine
Qualification
DM (Pulmonary, Critical care and Sleep Medicine) - Gold Medal
MD, DNB (Pulmonary Medicine)
EDRM (London)

Dr. Pujan Parikh
Consultant

Department
Pulmonary Medicine
Qualification
MBBS, MD (Pulmonary Medicine)