Equipped with cutting-edge technology and backed by the expertise of skilled faculties, the Radiology department at Sir H. N. Reliance Foundation Hospital and Research Centre is one of its kind in the country. The department functions as a Tertiary Referral Centre for Radiology with sub-specialisation and specific focus on Neuroimaging, Functional Neuroimaging, Head and Neck Imaging, Abdomino-pelvic, Chest and Musculoskeletal Imaging along with Interventional Radiology.
The complete range of imaging services are provided for all age-groups of patients, using the latest equipment and techniques. With the highest quality of imaging and image-interpretation, the Radiology department provides a strong foundation for expert care at the hands of our experienced specialists.
With top-of-the-line personnel in the capacity of Division Chiefs for each of the different sub-specialties in Radiology, we are proud to have such valuable experts for our patients.
Technology & Infrastructure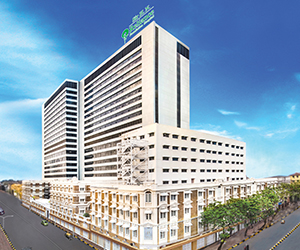 Ergonomically designed, the Radiology department at Sir H. N. Reliance Foundation Hospital and Research Centre is located on a single floor, close to the OPD clusters, for efficient administration and a better patient experience.
The seamless integration of our digital radiology equipment, HIS (Hospital Information Systems) and the PACS (Picture Archiving and Communication System) ensures real-time transfer of data and reports across the hospital systems, and remote access.
We have ensured careful planning and use of various associated diagnostic equipment for specialties like Cardiac Sciences, Pulmonary Medicine, co-located within OPD clusters (Distributed diagnostics).
Cutting-edge Technology:
SOMATOM FORCE CT 384-slice dual source: The 'first scanner' of its generation installed in Asia that performs at greater speed, and so reduces radiation exposure.
MRI (3Tesla) – SOMATOM Skyra: The 'first scanner' of its generation in Mumbai and the second in India, for high resolution images with greater speed.
The Lunar iDXA – Bone Densitometry unit: Offers research-grade image resolution, high precision and accommodates obese patients too.
Mammomat Inspiration (for Mammography) with Stereotactic Biopsy unit: Better image quality, decreased amounts of scattered radiation and reduced radiation dose.
Fluoroscopy unit, Ultrasound scanners, Portable USG machines, Digital Radiography, Portable X-ray units, PACS (Picture Archiving and Communication System).

Services
Services provided by the Radiology department are at par with international standards and include:
MRI (Magnetic Resonance Imaging)
CT scan (Computerised Tomography scan)
Mammography (Digitised)
Bone Densitometry
Fluoroscopy
Ultrasound
X-ray
Interventional Radiology:
Interventional Radiology utilises minimally-invasive procedures for diagnostic and therapeutic purpose. Various procedures, such as angiography, angioplasty, stenting, etc. are performed by our expert consultants in interventional radiography.
Partners in care
Dr. Surg. Capt. Rochan Pant
Director and Consultant

Department
Radiology and Imaging
Qualification
MBBS, MD (Radiology)

Dr. Meher Ursekar
Consultant and Division Head – Neuroradiology

Department
Radiology & Imaging

Dr. Aditya Daftary
Consultant

Qualification
Certification Board of Nuclear medicine. October 2005
American Board of Radiology. June 2005 (Recertified 2015)
American Board of Nuclear Medicine. October 2002
MBBS from Dr.D.Y.Patil Medical College, University of Mumbai. February 1997

Dr. Chander Lulla
Consultant

Department
Radiology & Imaging
Qualification
MD (Radiology), DMRD, Mumbai University

Dr. Himanshu S. Choudhury
Consultant

Department
Radiology & Imaging
Qualification
MBBS, DMRD, MD, DNB, MNAMS

Dr. Karthik Ganesan
Consultant and Division Chief – Body Imaging

Department
Radiology & Imaging

Dr. Saloni Desai
Associate Consultant

Department
Radiology and Imaging
Qualification
MBBS, MD (Radiology), DNB (Radio diagnosis)

Dr. Somesh Lala
Consultant and Divisional Head

Department
Radiology & Imaging

Dr. Sonal Chauhan
Consultant

Department
Radiology & Imaging
Qualification
MBBS, DMRE, MD (Radiology)

Dr. Swarup Nellore
Consultant

Department
Radiology & Imaging
Qualification
MBBS, DNB (Radio-diagnosis), DMRE