Sir H. N. Reliance Foundation Hospital has the most advanced, one of its kind, state-of-the-art hybrid Cath lab in the country. It combines traditional diagnostic function of a Cath lab with the surgical functions of an operating room. Here a cardiologist, a radiologist and a surgeon work as a team and carry out complex cardiac, vascular or neurovascular procedures. It has a robotic arm for imaging with low dose radiation which can be parked away from the operating table providing extra space to the surgical team. The hybrid room is also equipped with video capability for live satellite transmissions to a conference room at the hospital, or around the world. It also has an anesthesia machine, surgical lights, an advanced 3D electrophysiology system and haemodynamic monitoring system. It is ideal for transCathter implantation of valves, endovascular repair of aorta, neuro-interventions, and hybrid procedures in congenital and ischemic heart disease.
1. Coronary Artery Disease:
Hybrid revascularization approach: Advancement in technique and technology over the past 2 decades has helped improve clinical outcomes in both surgical and interventional percutaneous coronary revascularization. Various minimally invasive surgical approaches are used to perform the Left Internal Mammary Artery (LIMA) to Left Anterior Descending (LAD) graft. These approaches and techniques include off-pump coronary revascularization, small left thoracotomy, and partial sternotomy. LIMA to LAD graft has shown to exceed 90% patency at 10 years. This high rate of success however, is not shared by saphenous vein grafts, which have reported failure rates up to 30% in a year. Current generation stents have fewer restenosis rates. In select cases, performing LIMA to LAD and PTCA to non-LAD vessels a hybrid coronary revascularization procedure combines the long-term benefit of the LIMA graft with low restenosis rates of new generation drug eluting stents. It avoids the morbidity of a full sternotomy and saphenous vein grafts. In high risk patients the mortality and morbidity decreases in comparison to conventional surgery with shorter stay in the hospital.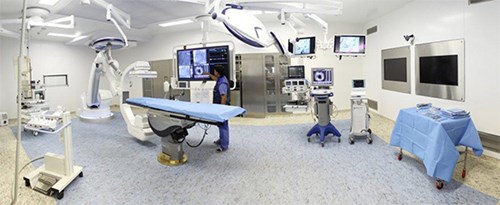 2. Congenital Heart Disease:
For congenital cardiac malformations, even though surgery remains the treatment of choice, interventional cardiology approaches are increasingly being used. Various procedures like device closure of ASD, VSD, PDA and balloon valvotomies can be performed in hybrid Cath lab with very low infection rates. In complex heart disease the children may be high risk due to low weight. Combining interventions and surgery into a single therapeutic procedure potentially leads to reduction of complexity, cardiopulmonary bypass time, risk, and to improved outcomes.
TransCatheter Aortic Valve Implantation (TAVI): The conventional approach for treatment of aortic valve stenosis is surgical replacement of the aortic valve. However, TAVI has emerged as a valid alternative for patients in whom conventional surgical techniques are considered too invasive and risky. The use of hybrid Catheterisation labs for performing TAVI is becoming the standard of care due to the significant advantages with regard to safety and hygiene.
Endovascular repair of Aorta (EVAR): Endovascular procedures aim to reduce the morbidity and mortality of treating arterial disease in a patient population that is increasingly older and less fit than when major open repairs were developed and popularized. Hybrid Cath lab is ideal for placement of stent graft for thoracic or abdominal aortic aneurysm. Surgeon performs a cut down of femoral or iliac arteries and interventional radiologist inserts a stent graft. The procedure risk, complications and standard recovery time are reduced.
3. Surgery for Rhythm Disturbances:
Permanent pacemakers, biventricular pacemakers and implantable Cardiac defibrillators can be performed with minimal risk of infection and complications.
RF ablation procedures for supraventricular tachycardia, atrial flutter and fibrillation can be carried out effectively with a 3D mapping system. The hybrid operating room also is used for surgical ablations, including the Mini-Maze procedure, which are performed when radio frequency Catheter ablation procedures are ineffective in patients with arrhythmias such as atrial fibrillation or ventricular tachycardia.