Twelve-year-old Rishabh (name changed), a resident of Mumbai, would seem like any other child of his age. He does his homework daily, plays a lot, loves cricket and enjoys munching on continental food. But very few know that the boy has endured a challenge that even grown-ups thrice his age would shudder to think...
Life put him through a gruelling trial that tested his strength and mettle. But Rishabh was no ordinary child. He was endowed with the spirit of a warrior. He took the challenge head on and emerged a winner, serving a glittering example to all those who are battling challenges in life.
It all started when Rishabh was just four. He used to fall ill very often and suffered from weakness and lethargy. Medical tests showed low levels of haemoglobin in blood (anaemia), necessitating multiple blood transfusions. When his condition failed to improve, doctors suspected presence of a more serious ailment. They conducted a bone marrow examination which revealed that the boy had Acute Lymphoblastic Leukemia, a type of blood cancer.
The news came as a shock to Rishabh's young parents Arun (name changed) and Anita (name changed). But they spared no effort in finding the best cure for their son's ailment. The treatment was extensive, and many a times painful, which Rishabh endured.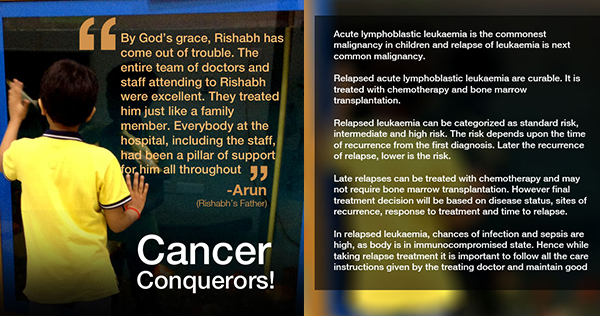 By December 2012, the treatment entered its concluding phase. The tests showed complete resolution of the cancer. Rishabh was soon discharged and was back to his normal life. 'The worst is behind us', thought his parents. But destiny had different plans in store for young Rishabh.
It was in December 2014, two years after completion of the treatment, when Arun noticed an unusual swelling in his son's testis. In the following months, the swelling in the testis increased and Rishabh began to develop high grade fever. Medical tests revealed that the haemoglobin and WBC count had dropped sharply. Further tests confirmed the worst suspicion of Arun and Anita - Rishabh's blood cancer had relapsed. Awful memories of pain and suffering resurrected in their minds. The very thought of putting their son through another round of gruelling treatment gave them sleepless nights. But the couple couldn't afford to waste time, for quick and decisive action was needed.
Rishabh was referred to Sir H N Reliance Foundation (HNRF) hospital for further treatment. On their first consultation with Paediatric Oncologist Dr. Shweta Bansal, Arun and Anita were explained about the chances of cure and the complications that could arise during the course of treatment. After consultation and discussion about the treatment, the child was admitted and started on high risk relapse protocol, which entails chemotherapy.
After the chemotherapy sessions ended, Rishabh started developing complications. He was admitted to the hospital with severe neutropenia and sepsis. He also suffered an episode of cardiac arrest. The doctors successfully resuscitated him and shifted him to the Intensive Care Unit (ICU). In the ICU, Rishabh developed respiratory complications. But the doctors successfully managed this condition as well by using non-invasive mechanical ventilation. Over the next few days, Rishabh had to undergo dialysis and colostomy. The chain of disorders seemed unending. With each passing day, it was becoming more and more challenging for the doctors, his chances of survival were diminishing.
However, by dint of skill and team spirit, the hard work of team of doctors, which included Pediatric Oncologist, Surgeon, Nutritionist, Physiotherapist, Pediatric Residents and nurses showed results and Rishabh was finally out of danger.
It is said that hope is the ability to spot a ray of light despite all the darkness. It was indeed a ray of hope to which the parents, doctors and support staff at HNRF were clinging on to, hoping for a miracle. Everybody at the hospital tried their best to make Rishabh smile, to make him believe that he would win the battle. Even the chefs at the hospital started making him his favourite dishes, while not compromising on the nutrition. Slowly but gradually, Rishabh recovered from all the complications of the ailment. He was put under extensive physiotherapy for rehabilitation.
This brought some hope to Arun and Anita, as well, that their son would again laugh, eat and play like before. The path to recovery was tough. But Rishabh had learnt to walk the path in his own style. After a few weeks, he was declared fit to be discharged from the hospital. "By God's grace, Rishabh has come out of trouble. The entire team of doctors and staff attending to Rishabh were excellent. They treated him just like a family member. Everybody at the hospital, including the staff, had been a pillar of support for him all throughout." states the father.
To restore joy and happiness in the life of the child, HNRF also approached the Make A Wish Foundation to fulfil one of Rishabh' s heartfelt wishes – to visit the iconic Taj hotel in Mumbai. The foundation arranged for a visit to the Taj hotel, where Rishabh got to bake an Italian pizza with the help of celebrity chefs.
It has been two years since Rishabh was treated for cancer relapse at HNRF. Rishabh still visits the hospital for follow-up treatment. He recently appeared for his IV class exams, which he cleared with flying colours. He scored an impressive 86%. He has again started playing cricket, the game which, perhaps, taught him to never give up fighting in the face of challenges.
At this young age, he has given two crucial lessons to all of us:
No matter how bad the situation gets, there is always hope for revival; keep fighting, and never give up
Teamwork plays an important role in outcomes.