The Hepato Pancreatico Biliary (HPB) Surgical Oncology department at Sir H. N. Reliance Foundation Hospital and Research Centre offers surgical treatment for cancers of liver, bile duct and pancreas.
As a component of the department of Surgical Oncology the division aims to specifically provide the highest level of comprehensive quality care to patients with gastrointestinal, hepato-biliary and pancreatic cancers.
With a team of very well trained and highly qualified surgeons, we offer a full gamut of services covering diagnosis, surgery and rehabilitation.
Technology & Infrastructure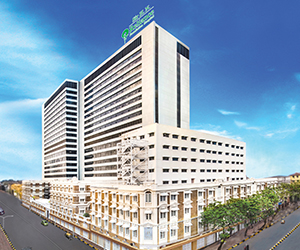 Detailed planning has gone for creating world class infrastructure and procuring cutting edge technology for our department.
Our high-class modular operation theatres enable us to conduct the most advanced and complicated surgical procedures. Our surgical team is assisted by sophisticated diagnostic services and well equipped Intensive Care units (ICUs) manned with qualified senior consultants to ensure better outcomes. The diagnostic department at Sir H. N. Reliance Foundation Hospital and Research Centre has advanced equipment for CT, MRI, PET etc.
To keep abreast with the cutting edge technology in Cancer Surgery, the hospital has a da-Vinci Robotic system and a Hybrid operation theatre with Digital Subtraction Angiography (DSA). The hospital has all the modern facilities for major abdominal surgery including availability of Intra-Operative Ultrasound (IOUS), Use of CUSA (Cavitron Ultrasonic Aspirator and Dissector) for liver parenchymal transaction, Argon Plasma Coagulator (APC), Harmonic Scalpel.
The Centre for Rehabilitation Medicine at the hospital is equipped with latest physiotherapy equipment.
Services
As mentioned earlier our hospital covers a vast range of services. They are as follows:
Radical Surgery for pancreatic cancer
Extended resection for pancreatic cancer with vascular resection/reconstruction.
Management of primary and secondary liver tumours, including complex liver resection
Use of advanced techniques in liver resection: ALPPS for bilobar metastatic disease hilar cholangiocarcinomas.
Extended resections for complex liver lesions / hilar tumours with vascular reconstruction
Radical surgery for gall bladder and biliary tract cancers
Synchronous resections for liver metastases and colonic tumors
Radical surgery for complex and advanced intra-abdominal tumors including complex sarcomas – requiring major complex organ and multi-visceral resections
Allied HPB and GI conditions including stomach tumors, Gastro-Intestinal Stromal Tumors (GIST)and Neuroendocrine tumours (NET)
Evaluation and Management of pancreatic cysts
Partners in care
Dr. Krunal Khobragade
Consultant

Department
Surgical Oncology
Qualification
MBBS, MS (General Surgery), MRCS, MCh. Surgical Oncology

Dr. Pravin Agrawal
Consultant

Department
Hepato-Pancreatic-Biliary (HPB) Surgery
Qualification
MBBS, DNB (General Surgery), DNB (Surgical Gastroenterology)