The department of Gastroenterology at Sir H. N. Reliance Foundation Hospital and Research Centre is dedicated to providing comprehensive care for prevention, diagnosis and treatment for patients with gastrointestinal disorders.
Our experienced consultants along with trained and professional technicians and nursing staff, provide round-the-clock specialist care to patients with digestive disorders. The entire gamut of simple as well complex conditions affecting the oesophagus, stomach, small and large intestine, liver, gall bladder and pancreas are treated utilising the best technological advances in the field.
Besides providing supreme quality care to all our patients, the department also caters to teaching and training of doctors, nurses and para-medic staff, thus making it worthy of being a centre of excellence in Gastroenterology.
Technology & Infrastructure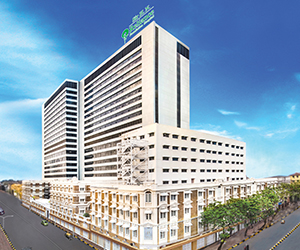 The department of Gastroenterology at Sir H. N. Reliance Foundation Hospital and Research Centre is fully equipped with latest technology to provide world-class services in the areas of Gastroenterology, Hepatology and Endoscopy.
We have two fully equipped, modern endoscopy units with the latest endoscopes and supporting equipment – Gastroscope, Duodenoscope, Enteroscope, Colonoscope, radial & linear Endoscopic Ultrasound Scope (EUS) to name a few.
The hospital also has a 19-bed day care unit especially designed for day-care procedures.
Services
Round-the-clock services are provided at the hospital for a wide range of gastrointestinal conditions. Common services include:
Endoscopies – Gastroscopy, Duodenoscopy & Enteroscopy
Colonoscopy
Endoscopic Ultra Sound (EUS) including FNAC & Biopsies
ERCP (Endoscopic retrograde cholangiopancreatography)
Capsule endoscopy
Therapeutic procedures such as:

Treatment of GI (gastro-intestinal) bleed
Variceal banding
Polypectomies
Endoscopic Mucosal Resection(EMR)
Balloon dilatation of strictures and achalasia
Foreign body removal
GI (gastro-intestinal) stenting
Biliary procedures such as gall stone removal and stenting of CBD
Percutaneous Endoscopic Gastrostomy (PEG) tube placement

Management of acute/life threatening conditions such as acute liver failure, GI bleed, acute pancreatitis, acute colitis, biliary sepsis, etc
The department offers the following clinics for patients with digestive disorders:
General GI (gastro-intestinal) OPD – GERD (Gastro oesophageal reflux disease), acid peptic disease, Barrett's disease, Irritable Bowel Syndrome, biliary and pancreatic disorders.
IBD (Inflammatory bowel disease) clinic
Hepatology clinic – Hepatitis B, C, autoimmune hepatitis, PSC (Primary sclerosing cholangitis), PBC (Primary biliary cirrhosis), Alcoholic Liver disease, Liver transplant, Hepatocellular Cancer (HCC).
Partners in care
Dr. Chetan Bhatt
Director & Consultant

Department
Gastroenterology
Qualification
MBBS, MD (General Medicine), DNB (Gastroenterology)

Dr. Shobna Bhatia
Consultant

Department
Gastroenterology
Qualification
MBBS, MD, DNB (Gastroenterology)

Dr. Chetan Kalal
Consultant

Qualification
MBBS, MD (Medicine), DM (Hepatology and Liver Transplant Medicine)

Dr. Dimple Jain
Consultant

Qualification
MBBS, MD (Paediatric), PDCC (Paediatric Gastroenterology)

Dr. Harshad Joshi
Consultant

Department
Gastroenterology
Qualification
MBBS, DNB (internal Medicine), DNB (Gastroenterology)

Dr. Ravindra Surude
Consultant

Department
Gastroenterology
Qualification
MBBS, MD (General Medicine), DM (Gastroenterology)

Dr. Sameer Gaggar
Consultant

Department
Gastroenterology
Qualification
MBBS, MD Medicine (Mumbai), MRCP Internal Medicine (UK), MRCP Gastroenterology (UK), CCT Gastroenterology (UK)

Dr. Samit Jain
Consultant

Department
Gastroenterology
Qualification
MBBS, MD (Medicine), DM (Gastroenterology), DNB (Gastroenterology)